Presentations on Antique Buttons
By Emilie Collens Illson
This professional presentation is available for groups of any size, either in my Medina home or at your meeting place. Audiences in the past have included garden clubs, quilters guilds, Red Hat Ladies, Victorian Tea Societies, church groups, The Nature Center, the Cleveland Museum of Art Textile Art Alliance, and a dozen different libraries. The presentation is very "hands-on". I focus on 9 different types of antique buttons: Bone, Vegetable Ivory, Porcelain, Tin, Painted Wood, Bison Horn, Mother-of-Pearl, Celluloid, and Bakelite. For each type I bring an enamel tray, on which are loose buttons, a bracelet made of that type of button, and period-appropriate household objects, made of the same material. The objects are Museum-quality artifacts, collected over a forty-year period. They are as old as the buttons which accompany them, 1840's to 1940's. These items are explained and then passed around the group for each member to touch and examine up close.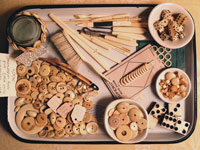 Bone Button Tray
The goal of the presentation is to educate (and entertain!), but more importantly, to enhance individual appreciation for my life's passion, the Button Down Design bracelets. Following the ½ hour presentation and question/answer segment, the group members will have a chance to examine, try on, and ask questions about the bracelets on hand for purchase. After 17 years in business, I have designed and sewn over 8900 bracelets. Two National Museum Shops have carried my work, the Museum of American Folk Art, in Manhattan, and the Museum of Women in the Arts, in D.C.
Each bracelet is unique, and comes with a hand-written description of the buttons in that particular design, as well as a black velvet gift pouch. They are available in sizes from XXS (for tiny newborns) up to XXL, and in styles appropriate for occasions from Rugby games to Royal weddings. The workmanship is guaranteed for life.
PRESENTATION FEE
$125
(Additional TRAVEL FEE may apply for Presentations)
CONTACT INFORMATION
Emilie Collens Illson
143 N. Spring Grove Street
Medina, Ohio 44256

440-263-4740
emilie@buttondowndesigns.com

Click here for printable Flyer